Sales Demo Development
@ Impekable
Well-designed sales demos make it easy to show off your digital products. Our UX and technology experience help your sales demos shine.
Sales demos help your team demonstrate the impact and value of your products in order to convert customers and attract investors. We build show-stopping sales demos that inspire confidence across multiple use cases.
Create impactful live demo experiences to gain buy-in from VCs and other investors
Support your sales team with pre-populated, sales-friendly product versions
Help board members and other stakeholders to visualize project progress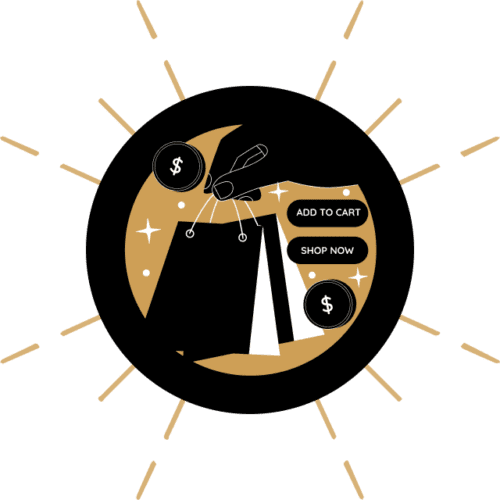 If you've ever jumped on a sales call with a SaaS or enterprise software company, you've probably seen a sales demo in action.
Sales demos encompass everything from full-featured mockups pre-populated with data to clickable prototypes that get your idea across — and they're especially helpful when:
You want to demonstrate your product to a prospective buyer without giving them full access (or when you want to restrict the features users see during a free trial period)
You need to show off or even sell a product that doesn't quite exist yet
Your product is hard to visualize, but you still need to provide sufficient proof of concept to get customers or investors excited
If you need an attention-grabbing sales demo, Impekable can help — whether you need to identify and build core screens or develop a fully functioning demo for your sales team. Our experienced team can help create a demo experience that makes your product feel irresistibly tangible to the people you most need to convert.
Why are Sales Demos Important?
As they say, 'seeing is believing.' If your prospective customers don't understand your product — or if they can't see how it supports their specific requirements — they simply won't buy.
Further, keep in mind that you don't need to wait to show off or sell your project until it's done — you can show it off along the way with strategic sales demos.
Whether you're presenting a future concept or a finished product, it's important to put your best foot forward. Impekable equips you with impressive sales demos that highlight your product's value to multiple stakeholder groups.
Our Sales Demo Development Process
At Impekable, we specialize in building technology that is rooted in a stellar user experience — and if nothing else, sales demos require top-notch user experience. We apply our UX design skill set and well-established technology partnerships to build you an engaging and persuasive sales demo:
We begin by delving deeply into understanding your audiences' needs, pain points, and challenges. We work closely with you to determine the most impactful features and functionalities to demonstrate, as well as any key screens that should be shown off. We design and build engaging product demonstrations that are optimized for your vertical and potential use cases. The final step? You and your team use your new sales demo to encourage customers to choose your solution or to convince investors to partner with your company.
Check out these impactful Impekable projects that helped our clients close deals and gain investors.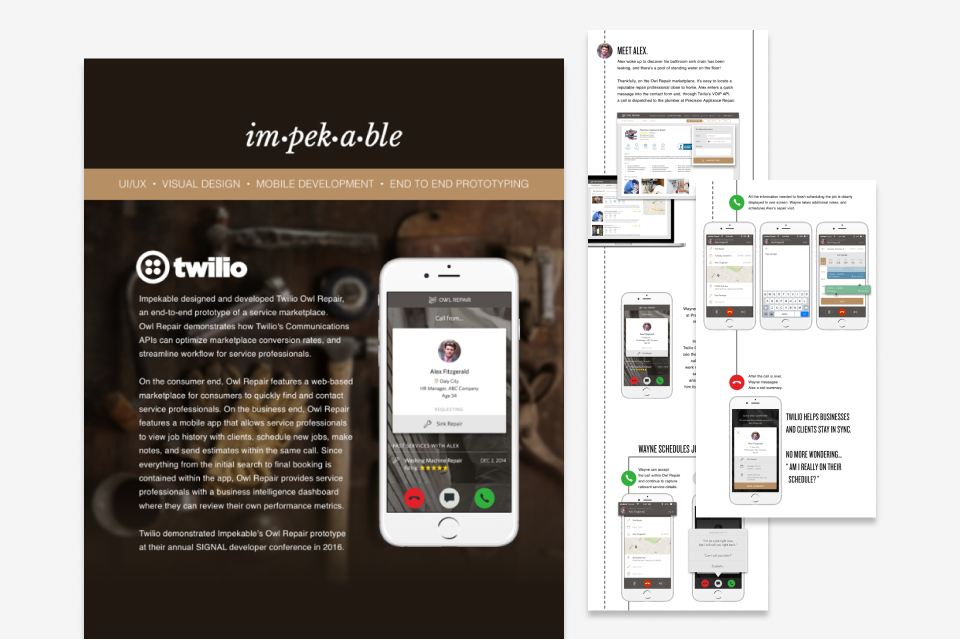 Sample Service Marketplace and Service Provider Mobile App
Impekable used Twilio's Communication APIs to develop Twilio Owl Repair, a sample service marketplace we demonstrated at Twilio's annual SIGNAL developer conference.
Through this demo, users can easily see how Twilio's APIs can be applied in marketplaces to improve communication workflows, speed response time, and increase the overall level of service.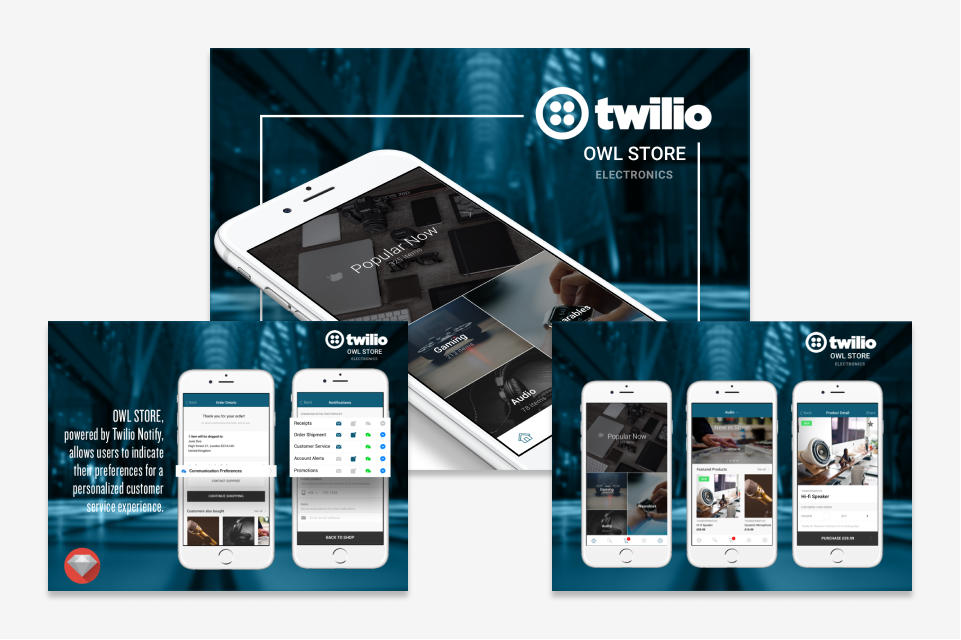 Business to Client Communication: Sample Store Mobile App
To showcase Twilio's Notify system, our team developed Owl Store, a prototype with both a consumer-facing iOS app and a business-facing dashboard.
The demonstration followed the customer journey between a fictional customer, Jane, and a store owner, Jon. As Jane completed e-commerce purchases and exchanges from Jon's storefront, Twilio Notify allowed both parties to easily remain in communication — all thanks to an intuitive UI designed by Impekable.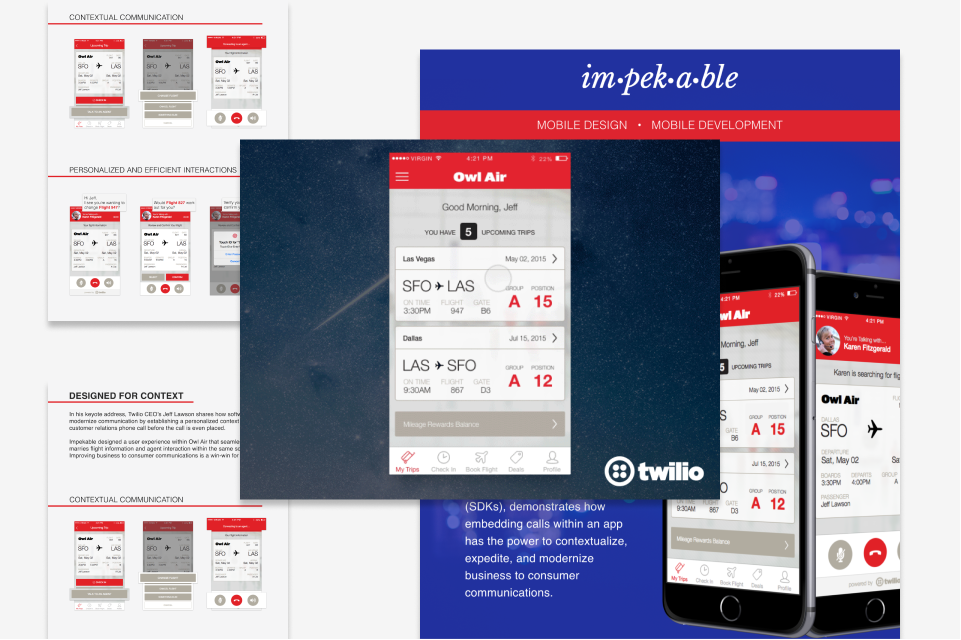 Business to Client Communications: Sample Agent Web Dashboard
Impekable designed a web dashboard and client-facing mobile application for a fictional airline, Owl Air, to demonstrate Twilio's Voice API and Software Development Kits.
In this sample sales demo, we showed how the dashboard allowed the agent to provide modern, high-quality customer service by improving and expediting communication between parties.
Ready to Build a Sales Demo That Converts?
Our team's robust UX skillset and technological capabilities simplify the development of high-performing, compelling sales demos. How can we help you gain buy-in from your target audience?