Mobile App Development Services
Award-winning iOS and Android mobile apps for global enterprises, startups, and everyone in between.
A Strategic Approach to Mobile Application Development
Our mobile app development services blend a deep understanding of your goals with mobile app expertise to reveal the best way to bring your vision to life. From decisions on what your company should build vs buy — to whether you need a mobile application at all — our early guidance sets your application up for long-term success.
Impekable's unique approach to mobile app development:
We work with leading partners to save time and money by integrating existing technology into your app
We work with companies like Google Nike, and Adobe -- and we bring that experience to your mobile app project
All of our mobile app projects are led by in-house developers with senior-level CTO experience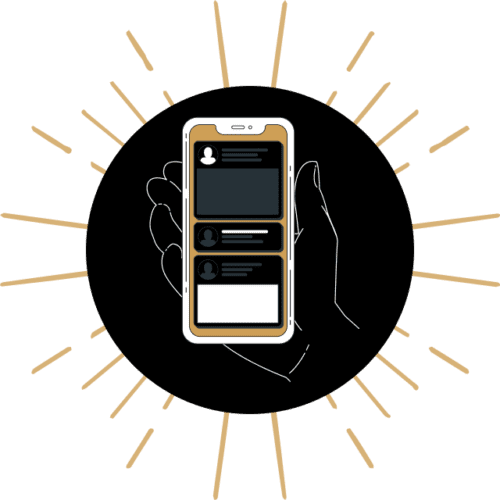 What is Mobile Application Development?
Mobile application development is the creation of software that's designed to run on mobile devices. Colloquially, many of our clients use the phrase 'mobile application development' to describe both standalone mobile apps and mobile versions of websites and web applications.
At Impekable, we design and build high-quality mobile applications that heavily focus on interaction to enrich the user experience. Because we're an iPhone app development company and an Android app development company, we support several native mobile programming languages and frameworks, including:
Flutter
React Native
React Android
Native iOS
Why is Mobile Application Development Important?
It's simple: users love mobile experiences.
In Q3 2022, users downloaded 27.1 billion apps from Google Play, according to Statista. In that same period, Apple's App Store drove $21.2 billion U.S. dollars in consumer spending on apps.*
With consumers spending more and more time on their mobile devices each year, failing to meet them where they are with your own app can cause you to lose market share to more mobile-savvy competitors.
*https://www.statista.com/topics/1002/mobile-app-usage/#topicOverview
Our Mobile Application Development Process
To provide you with a great digital product, we utilize top-producing tools when building mobile apps. We collaborate with and incorporate the best existing resources when developing your mobile app to optimize your time and investment.
​
Our strong existing partnerships with Twilio, AWS, and others allow us to implement their products within your mobile app.
Identify Critical Requirements
Our work begins with initial conversations that identify who your users are and how your mobile app will support their needs. We'll also explore your business model, existing tech stack, competitive landscape, and more.
Define the User Journey
Following this initial analysis, we'll craft user experiences and user journeys that ensure your customers' needs are met in a modern, intuitive way -- all while incorporating your feedback along the way.
Evaluate Build vs Buy
Based on how your users will interact with your app, whether you need to own the project's IP, and other factors, we'll advise you on which app features should be built vs which can be bought from existing leaders.
Create & Execute a Project Plan
All of this preliminary work culminates in the creation of a project roadmap that identifies key milestones, deliverables, and timelines that our leading mobile app developers follow to bring your app to life.
Testimonials
Hear From Our Happy Clients
"Impekable is doing a phenomenal job transforming our abstract vision into a functioning web product."
"It was a pleasure to work with Impekable. Impekable produced successful deliverables on time to help build a platform that has tested well. The team was organized and communicated transparently, which resulted in a streamlined collaboration. They provided valuable technical expertise, which enables future engagement."
"They're an Agile team able to pivot and adapt with rapidly evolving project scopes."
Frequently asked questions
Frequently Asked Questions (FAQ)
This question might catch you off guard. After all, doesn't everyone need a mobile app these days?
What we've found -- and what we tell prospective clients -- is that bespoke mobile applications aren't the right choice for every business. Take the difference between businesses like GreatClips and Uber.
Because Uber passengers might use the company's services on a weekly basis -- even a daily basis -- developing a standalone app that can deliver an exceptionally streamlined user journey makes sense. On the other hand, with GreatClips, customers might only be booking haircuts once every six months. In that case, introducing a separate app may create unnecessary friction for users, compared to simply developing a mobile-optimized version of the company's website.
Before entrusting your mobile application idea to just anyone, take the time to ensure you've chosen the right partner for your needs. One thing to evaluate is the technology used by prospective partners. Are they up-to-date on the most current languages used in mobile application development? For example, at Impekable, although we still work on React Native and Native iOS projects, we generally steer clients towards Flutter, which is more widely used right now.
It's also important to get to know providers' approach to mobile app project planning -- specifically, how they address the question of building vs buying. For instance, when clients come to Impekable with a mobile app idea that involves a customer database, we aren't going to recommend building one from scratch when we can easily integrate solutions offered by providers like Hubspot to provide the same functionality at a much lower cost.
In addition to evaluating a company's development approach, look for a partner that fits into your company's culture and preferred workflows. Remember, building a new mobile application can be a major undertaking. Make sure you feel comfortable with the team members you'll be working with and that you have confidence in their ability to deliver the promised output.
When hiring from today's top app development companies, it's best to schedule discovery sessions with at least three potential providers.
During these sessions, each provider should ask you questions and give concrete guidance on how they'd approach your specific project. Ask any provider you're thinking of moving forward with for a full proposal -- this will help you compare apples to apples when evaluating providers' approach, working terms, and more.
Your Partner in Mobile Application Development
At Impekable, we specialize in creating mobile app experiences that are intuitive, beautiful, and optimized across mobile and tablet devices. Reach out for more on how we'll tackle your mobile app development project.