Automobile App Design
@ Impekable
Create a seamless app experience for on-the-go users with our car app design services.
At Impekable, we design intuitive automobile apps for your customers that are safe and effective to use while driving.
More importantly, our extensive car app design experience means we understand the automotive industry's technical and safety requirements — as well as what it takes to get your app approved by Apple and Android so your customers can start using it in their cars.
Who Benefits from Automobile App Design?
Podcasting and music app developers
Navigation and parking app developers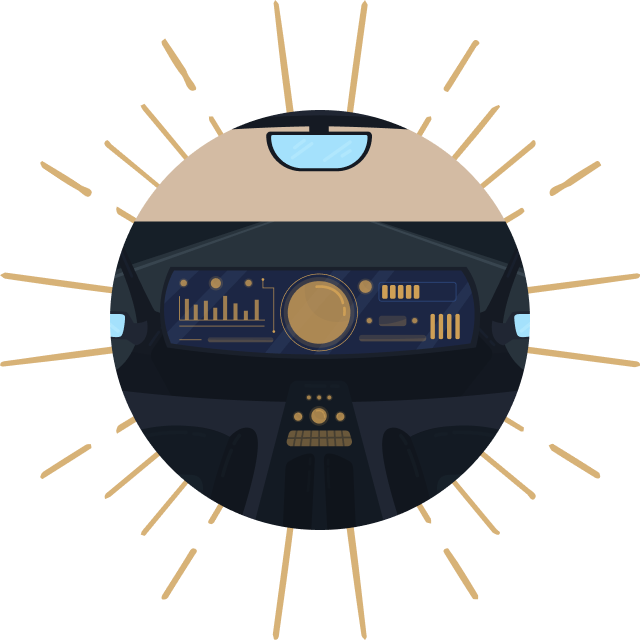 What is Automobile App Design?
Automobile app design uses UX/UI concepts to create a safe and easy-to-use interface so customers can use your app while driving.
iOS users can connect with their car's head unit via Apple CarPlay, while Android users connect via Android Auto. Once set up, drivers can control their app experience on their car's infotainment screen, rather than on their phone.
In designing an automobile app, the driver's safety is the top priority. This means developers must focus on the core functions of the app, removing unnecessary features so users can quickly find what they're looking for.
Because of the strict safety regulations surrounding automobile apps, it's important to work with an experienced developer who knows how to create an app that's safe to use while driving.
Why is Automobile App Design Important?
Creating a smart car app widens your customer base and increases your app's usability.
Whether they're commuting or shuttling kids to activities, many of your app users spend several hours in the car each day. Rather than being stuck listening to the radio or using the in-car navigation system, they want to connect to their favorite apps in the car. However, in most states, it's against the law to use a phone screen while driving.
Through car apps, customers can listen to their favorite podcasts while they drive, sync up their parking apps to their car, and even create voice messages through their infotainment center.
Offering your users the option to access your app via their car's infotainment system allows them to use your app while keeping their focus on the road.
Our Automobile App Design Process
Through our work with leading companies, we've perfected our car app design process to deliver the best product possible. Here's how it works:
Discovery
First, we'll explore the app you want to build to ensure we're the right partner to get you the results you want.
Creation
Next, our UX/UI team leverages its expertise to design an intuitive app experience for your customers.
Support
Once your design is complete, we can continue to support you through the development and approval process for your car app.
Frequently asked questions
Frequently Asked Questions (FAQ)
There are strict rules about what types of apps can be used on a car's infotainment screen. Many apps are far too distracting for drivers to use on the road. Acceptable app categories include music and podcasting apps, messaging and calling apps, and navigation apps. Unfortunately, if your app doesn't fall into an approved category, you won't be able to create a successful car app.
If you decide to create an app that fits into one of these categories, you must still go through a testing and approval process. This isn't just about testing how the app works on its own, but how it interacts with the other functions the car's head unit is performing, as well as any additional car features such as steering wheel and voice controls.
For example, what happens in your app when the driver receives a call? Can it be used alongside a separate in-car navigation app? Before you can launch your automobile app, it needs to be seamlessly integrated into the driver's experience.
You need to choose a smart car app designer who's created many successful car apps so you can be confident that your app will work as intended. Automobile apps are highly regulated, so it's important to work with a developer who knows how to design an app that fits within those requirements.
You also need to choose a developer with strong UX/UI knowledge, like Impekable. That's because automobile apps must be effortless to use without distracting the driver from the road.
The most important factor in creating a good car app is prioritizing the driver's safety. Unlike a typical phone app, users are interacting with an automobile app while they're driving. This means the driver should be able to glance at the buttons and text on the screen and easily understand it. They need to be able to interact with it using just one hand, and there should be an option included for the user to give it speech commands.
For these reasons, your car app shouldn't have any scrolling text or distracting graphics. It also shouldn't encourage users to spend more than 1-2 seconds choosing an option or reading text.
Is An Automobile App Right for You?
Reach out to see how we'll combine your car app idea with our Impekable expertise to create a driving experience your customers will love.